Dear visitor, welcome to Laras Levelbase Forum. If this is your first visit here, please read the Help. It explains in detail how this page works. To use all features of this page, you should consider registering. Please use the registration form, to register here or read more information about the registration process. If you are already registered, please login here.
Wednesday, February 7th 2018, 6:08pm
OpenLara: Neue Tomb Raider Engine von XProger
This post has been edited 6 times, last edit by "Niklas" (Feb 8th 2018, 12:06am)
---
Wednesday, February 7th 2018, 6:55pm
Open Lara
Open Lara Gameplay Features

TR1 - TR3 komplett durchspielen (TR4- TR5 noch WIP)
Multiplayer Modus

Quoted
First Person & Third Person Modus (mit "V" wechseln)
Quoted
Slowmotion Modus

Ultra realistisches Wasser
Quoted
Viele neue Effekte für Atmosphere:

Quoted
Lara's Zopf in allen Levels

Quoted
Multi-Aim & manueller Aim mit der Maus (noch WIP)
Quoted
Trapezoidales texturieren
Quoted
Open Lara Multi-Platform Support

Tomb Raider am PC mit Tastatur spielen (Windows / Linux / Mac (WIP))
Tomb Raider mit Gamepad
Quoted
Tomb Raider im Browser spielen (mit "Alt+Enter" Fullscreen, "H" für Help)
Quoted
Tomb Raider auf Android Smartphones spielen (mit App)
Spoiler
I have two versions: one for
android >= 4.3
devices with gamepad support and another for
android >= 2.2
devices (you probably should switch all graphics options to low and
turn off reverberation sound effect on title or inventory screen).
Before launch the game you must place data files into your
storage/OpenLara/level/
&
storage/OpenLara/audio/
folders of your device.
New optimized version is
available
.
It's more bright instead of previous one and I think is too much, maybe
I'll reduce it in next version. Another big update - touch-screen
support on windows, web and android platforms... yes Android is already
supported!
For android I've performance problems with shadows and water effects on low-end devices. So for now I've two builds for
low-end
and
high-end
devices with shadows and realistic water. I'm working on optimization
and maybe these effects will be playable on low-end devices, anyway in
future it's will be just a option in settings. And of course if my touch
mapping is sucks you can check out my gamepad controls mapping for
android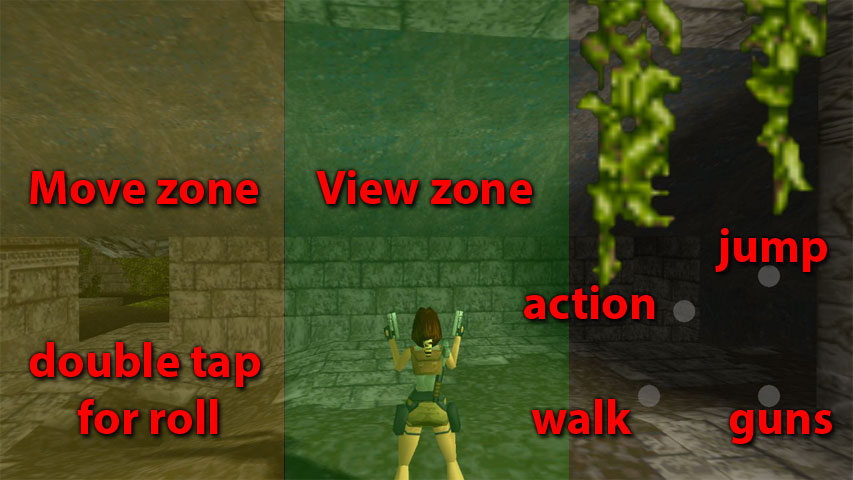 Tomb Raider auf einer UHR spielen

Quoted
Tomb Raider mit Virtual Reality spielen

Quoted
Die Playstation Version (PSX) von TR auf dem PC spielen
Open Lara To-Do Liste

TR 4 - TR 5 implementieren und Bugs beheben
Quoted

Wer bei der Entwicklung mithelfen möchte. Bitte OpenLara installieren und TR1 - TR3 durchspielen. Alle Bugs bitte

HIER

melden
Die neue Engine mit dem neuen Editor (Tomb Editor) kompatibel machen
Neue Effekte implementieren

Tomb Raider so ziemlich auf jedem Gerät spielbar machen

This post has been edited 12 times, last edit by "Niklas" (Mar 20th 2018, 1:48pm)
---
Wednesday, February 7th 2018, 7:33pm
Wie kann ich Levels spielen ?

Einfach den Inhalt der Tomb Raider CD auf den PC kopieren. In den gleichen Ordner die OpenLara-Dateien ziehen. Bei der Steam-Installation einfach ins Installationsverzeichnis packen. Die dritte Alternative wäre, man downloaded sich die Levels im PSX Format im Internet (bessere Sound-Qualität). Das Spiel erkennt automatisch die Version (PC oder PSX). Man kann jetzt den gewünschten TR-Teil (momentan nur TR1/TR2/TR3) über die OpenLara.exe starten. TR1 ist fast vollständig implementiert bis auf die Gegner AI & FMV Filmsequenzen. Jetliche Bugs bitte hier oder auf im Originalthread reporten. Bei TR2/TR3 fehlen noch die neuen Objekte, diese werden mit den nächsten Versionen Stück für Stück nachgereicht. TR4/TR5 & Custom Levels fehlen momentan noch.
This post has been edited 3 times, last edit by "Niklas" (Feb 8th 2018, 11:03pm)
---
Wednesday, February 7th 2018, 11:37pm
Habs mal angetestet, ich finde die Steuerung fürn Popo.
Volker
--
---
Wednesday, February 7th 2018, 11:46pm
Die Steuerung wird man in der nächsten Version ändern können. Noch 1-2 Wochen Geduld !
This post has been edited 2 times, last edit by "Niklas" (Feb 8th 2018, 10:44pm)
---
Monday, April 9th 2018, 9:52pm
---
Wednesday, January 23rd 2019, 1:33pm
Winston im Kühlschrank Version 2.0
Ja mich gibt's noch, ich lese die meiste Zeit still mit.
In 2 Wochen update ich mal die Mainposts, es hat sich einiges getan seitdem ich die Threads erstellt habe.
---
Sponge
unreticent member
wcf.user.option.userOption56: A very Bad Grund, 20. TR Meeting
Location: Elbflorenz
Thursday, January 24th 2019, 10:36pm
Winston glänzt sehr schön.
---
Mister86
Intermediate
wcf.user.option.userOption56: Im Moment nichts... eher programmieren... / TombEditor testen...
wcf.user.option.userOption57: Resident Evil / ROTTR / Feder - Ruins of the Lost City
Location: Kleve am Niederrhein
Friday, January 25th 2019, 7:38pm
Da bin ich neugierig... mal sehen wie des wird...
Ehemals Schläfer

Baue weiterhin als "Schlaefer"
---